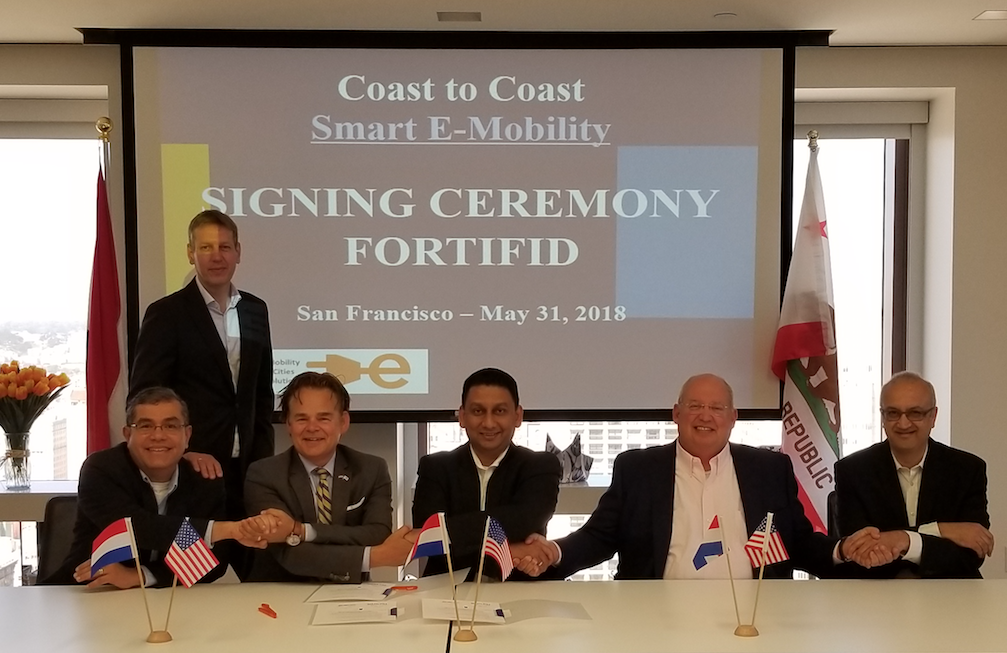 San Francisco, June 11, 2018: FortifID has joined the Trans-Atlantic Coast to Coast Smart e-Mobility Program to facilitate the development of the US and Netherlands Smart e-Mobility market.
"Coast-to-Coast Smart e-Mobility (S4C) is excited that FortifID is joining the partnership", shared Peter van Deventer, Director. "As an innovator and disruptor FortifID brings unique expertise to the smart e-mobility sector.  Their privacy preserving data solutions on the blockchain may prove to be crucial for data integrity which is essential for Autonomous, Connected, Electric and Shared Mobility platforms.  I consider them to be a great asset to the transatlantic cooperation between Netherlands and California. FortifID's ambition to support and accelerate solutions for smarter and cleaner electric transportation is inspiring."
"By joining the Coast to Coast Smart e-Mobility Program we will be able to enhance use of the extended network, strong partnerships, unlock new business opportunities and contribute to the success of the Smart e-Mobility Alliance" says Anirban Basak, CEO of FortifID.
ABOUT FORTIFID
FortifID is a software company that enables a frictionless digital ecosystem with enhanced consumer data privacy.  The FortifID platform provides services to consumers, data providers and online service providers.  Consumers can create and use multiple personas that can be used to seamlessly obtain different online services while restricting the personal information divulged to get those services.  Data Providers form a "Circle of Trust"to allow vetted privacy-preserving data analytics to be invoked on their data via smart contracts on the blockchain.  Businesses can perform customer verification and market to individuals in a privacy-preserving manner.
FortifID helps businesses with GDPR compliance by making it possible to analyze consumer data without requiring the raw data to be copied or shared.
Commercial applicability for e-Mobility includes authentication/KYC, directly matching institutional business offers to consumers, enabling consumers to maintain data privacy while charging at public charging stations, and the ability for businesses to provide value-added services such as driver discounts in a privacy-preserving manner.  We also envision extending the "Circle of Trust"to include charging networks, allowing analytic solutions to be run on usage patterns to enable insights such as optimal placement of charging stations, and predictions about charging infrastructure requirements.