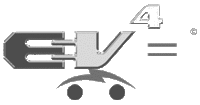 EV4 was established in early 2010 by Hans van der Meer and incorporated in the State of Oregon in July 2010 as EV4 LLC. The company's main office is located at 2727 SE Raymond Street in Portland, Oregon and its subsidiary offices CTS Engineers in Bellevue, Washington and Meckel Engineering in Coeur d'Alene, Idaho.
The company is in the business of design, finance, manufacturing, installation and operation of its innovative solar ETM™ charging station and smart grid system.
Over the last years, EV4 developed its solar powered EVcharging station, trademarked as ETM™ (Energy Transfer Merchant) – a play on ATM. The fully integrated ETM™ station is equipped with a battery storage system and is capable of AC (Level 2) and DC (Level 3) charging of vehicles with renewable energy, optionally accounting for the sources of clean energy used. The ETM™ battery system is grid-tied with a 3-wire single phase 120/240VAC connection, not requiring the mostly used 3-phase 208/277/480 VACconnection, therefore, no demand charges. Its battery storage system (standard size 50kWh) can provide power system back up, grid support, and load balancing services. Like an ATM storing and dispensing money the ETM™ captures, stores and dispenses energy.