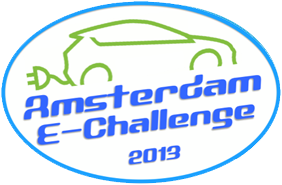 On Saturday September 28, 2013 Amsterdam E-Challenge (www.amsterdam-echallenge.nl/english-summary) and National Plug-in Day events in Los Angeles and Silicon Valley (http://www.pluginday.org) will have live connection, supported by the Coast to Coast E-Mobility program.
During the live connection a symbolic "hand-over" will be made by speakers from government, industry and academia in The Netherlands and West Coast of the US. This unique event symbolises the international drive towards more sustainable transportation and further introduction of electic mobility. Amsterdam E-Challenge, National Plug-in Day and Coast to Coast E-Mobility look forward expanding this event into an "International Plug-in Day 2014" inviting additional partners to join.
About the Amsterdam E-Chanllange
The Amsterdam E-Challenge is a unique event in The Netherlands in which over 150 socially responsible CEOs, politicians and journalists will participate in over 100 electric vehicles driving a fun rally across Amsterdam City Center, during the 3rd edition of the Amsterdam E-Challenge, previously known as the PP Electric Rally. The objective of the event is to acquaint senior executives, politicians and society with driving electric and inspire them for sustainable mobility.
The Challenge will be even more sustainable due to the innovations our digital era has to offer. A first novelty will be the use of a digital roadmap on a tablet using traditional methods of rally navigation. The second and even more exciting novelty will be that participants will be challenged by activating tasks and questions on their smartphone at specific gps-registered waypoints.
About National Plug-In Day
Tens of thousands of people in some 95 U.S. cities will rally to raise awareness of plug-in vehicles for the third annual National Plug In Day, with Mexico and Amsterdam taking part for the first time. The goal of events from West Palm Beach to Seattle to Reno will be to give consumer information and test-drives to more EV newcomers than ever. These gasoline-car drivers will be able to experience the quiet, clean thrill of plug-in vehicles first-hand while learning about their cost-savings, national security and clean-air benefits.
"Thanks to the continued drop in prices, plug-in vehicles are now within the reach of millions of Americans. Many are now driving 'for free' because their car payments are equal to or even less than they paid for gasoline," said Plug In America president Richard Kelly. "Our aim is to raise awareness of this affordability and the many other benefits of EVs."
National Plug In Day activities will vary by city. In addition to test drives, they will include rallies, tailgate parties, charging-infrastructure demos, EV-readiness awards, and more. Among the plug-in vehicles expected for public ride-n-drives: Tesla Model S, Nissan LEAF, Chevy Volt, Mitsubishi iMiEV, Plug-in Prius, Ford Focus EV, Honda Fit EV, BMW ActiveE, Zero and Brammo motorcycles and such earlier models as the Tesla Roadster, Fisker Karma, Coda and Toyota RAV4 EV.
Saturday or Sunday, Sept. 28 or 29, 2013. Date and times will vary by city: http://pluginday.org/events.php
About the Coast to Coast E-Mobility connection
"The Coast to Coast E-Mobility Connection" (C2C), a public-private partnership, aims to promote knowledge and innovation exchange between Dutch and US governments, universities and companies; to strengthen bilateral relations between decision-makers; and to help position private organizations in relevant e-mobility markets.
In April 2013, C2C set up a dedicated Holland E-Mobility House, located within the Netherlands Consulate General in San Francisco, to organize seminars, trade missions, study tours and other programs to support the partnership's aims. C2C communicates news related to developments in e-mobility in the US and the Netherlands through various channels.
Since its launch the Holland E-Mobility House has made great strides, achieving several results, including a paper comparing US and Dutch policies supporting the introduction of electric vehicles; California Governor's Office and Dutch government trading policy advisors for three months to learn and to cooperate on e-mobility adoption; launching of a pilot project by APPM, Athlon Car Lease and Zero Motorcycles in The Netherlands; and hosting a study tour by UC Davis to experience state of the art e-mobility developments in the Netherlands. Additional projects have started with more results to follow soon.
Presently, C2C represents 15 active and contributing partner organizations: APPM, Athlon Car Lease, Brabantse Ontwikkelings Maatschappij, De Lage Landen, Eindhoven University of Technology, Greenlots, Ministry of Economic Affairs, NSOB, PROOV, Provincie Noord-Holland, Rabobank, Rotterdam University, Spijkstaal Elektro, Tacstone Ventures