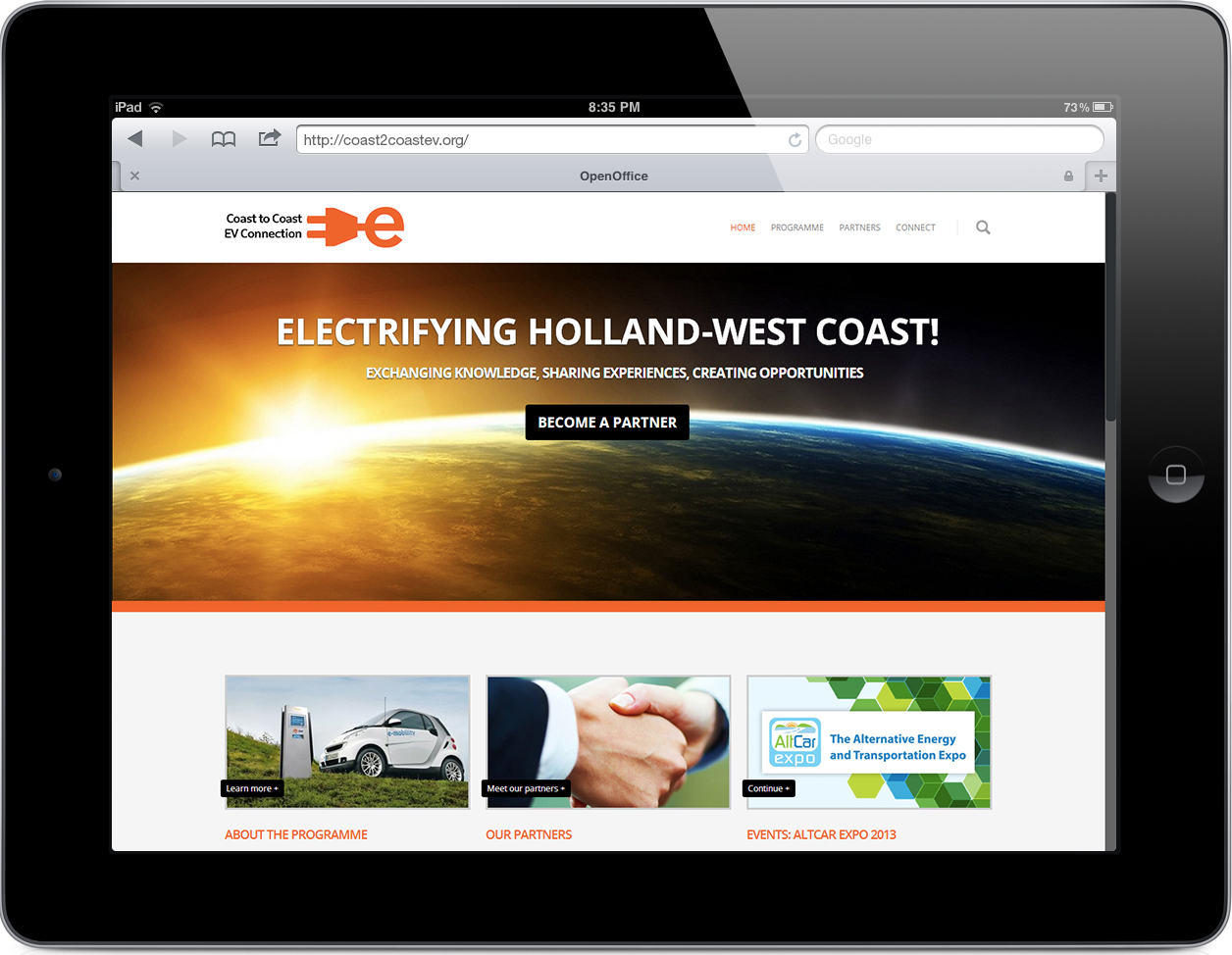 Today at the 2013 AltCar Expo in Santa Monica, California, the Coast to Coast E-Mobility website is launched. Historic and unique from different perspectives.
Historic because exactly four years ago the 2009 AltCar Expo was one of the locations in the US where the initial research on the third wave of EV introduction, was performed (see weblog video from September 2009). This research was the basis for the Netherlands School for Public Administration to advise to set up a transatlantic e-mobility program between Dutch and West Coast governments, universities and private organizations (http://www.nsob.nl/EN/wp-content/uploads/2010/06/e-mobility-webversie.pdf). This advice lead to the current Coast to Coast E-Mobility program.
Also, historic because already in 2009 the AltCar Expo was in its 4th edition! It was impressive to see the number of people visiting and representing the EV domain: professionals and officials, researchers and consumers, car enthusiasts and EV owners, children and adults. All engaged in a different and more sustainable form of transportation.
Unique because Coast to Coast E-mobility is the first foreign public private partnership to position itself on the west coast of the United States and to participate in AltCar Expo.
Also, unique because for the launch of the Coast to Coast E-Mobility website, three guest bloggers from the US have been willing to contribute their views on the changing landscape of electric mobility. Unique because they all share the same passion for this change but on the other hand represent three different perspectives: Politics, Practice and Profitability.
Paul Scott, founder of Plug-in America, shares his personal view on the political aspects of the change needed. Marc Geller, frequent blogger on EV issues based in San Francisco, shares his views on practical workplace charging. And, finally Brett Hauser President and CEO of Greenlots pleads for Open Standards in the US like The Netherlands/EU have adopted already for some time.
Three personal views. Different, engaged, passionate and relevant. Coast to Coast E-Mobility is proud to have these top experts share their views and help launch our new website. Hope you like what you read. Let us know!
On behalf of Coast to Coast E-Mobility,
Peter van Deventer