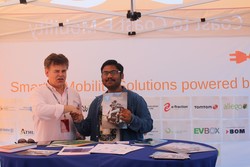 Internship at UC Davis, and Efficient Drivetrains Inc. California
Coast2Coast EV Program under the Consulate General of the Netherlands at San Francisco USA, Connects the Dutch Universities and the Companies with the and western regions of the US. The organisation mainly focuses in the field of E-Mobility, agriculture and Finance. It provides opportunities to exchange information, ideas , innovation and business between Netherlands and the western regions of the USA mainly in California. As a second year student Master's Student of Eindhoven University of Technology or TU/Eindhoven. I was very much interested to explore the wide opportunities in California relating to E-Mobility. I am doing my research in the field of E Mobility specialising in Hybrid Power trains for PHEVS, EVs to optimise performance and cost. The Eindhoven University of Technology also called as TU Eindhoven is a part of the Coast 2 Coast EV program. TU/Eindhoven is a top research institute in Netherlands as well as Europe. UC Davis in California USA is in also a part of the program. I was able to explore different atmospheres of E mobility research both in USA and Europe through this program.
What do I research here?!
I got this valuable connection of Prof Dr Andrew A Frank (Andy) through Dr Peter Van Deventer and Mr John van den Heuvel. Prof Andy is a very popular figure in the field of Plug in Hybrid Vehicles. He was a professor at UC Davis California but now he is the CTO of Efficient Drive Trains Inc (EDI). He owns a large number of patents and research in the field of E-mobility. EDI is one of the Silicon valley start- ups making PHEV kits, CVT Powertrains and Drive Train Solutions for leading Companies like PG&E, Toyota, Ford Etc. As an intern my ambition to explore the E- Mobility World was very Exciting. Out of interest I planned to do research on the PHEV charging safety mechanism and a policy study for India.
PHEV/EV charging safety system
We use electricity and it is a basic need for everyone around the world. We only see the sockets and switch board. What is behind the wall is a mystery. When we connect a high power battery pack in an EV or a PHEV or even a Power wall System it is going to act like a load drawing more current to charge the batteries. The building's wirings have many problems like Loose connections and using lower quality wires that are not suitable for thes loads. If this is not monitored it is going to burn down the building as well as the connected battery source.
So I decided to make a safety system that is simple and cost effective. The system will detect the problems like loose connections and faulty wirings. This will be useful not only now but also for the future when the grid is loaded with EVs and more appliances.
Step by Step implementation of PHEVs and PHEVLERS in India Using Existing Infrastructure and Renewable Energy ( A Policy Suggestion)
My internship Experience:
It was an unforgettable experience: a six-month internship at UC Davis and Efficient Drivetrains Inc. I did my internship under Professor Andrew Frank, who is also known as the father of plug-in hybrid vehicles.
Of all the university's campuses, the University of California at Davis, known as UC Davis, is the biggest. This is a university town and the campus is a dominant presence. When I first arrived, I was amazed to see various departments and different streams like Engineering, Law, Medical and Management all in one place. Part of UC Davis is also located in Sacramento, which is the capital of California.
California! Just hearing the name, makes you smile and feel warm! What's it known for? It is among the top states in the US for entertainment. It is also known for Silicon Valley; lots of IT companies are established in the Northern California region.
California also is the birthplace of TESLA, a leading electric vehicle manufacturer. As I am from the Automotive group, I found my visit to the TESLA Factory very exciting. I also got a chance to visit the Formula E-Prix in Long Beach, Los Angeles County. It was really cool to see electric cars gearing so fast.
California is a place where you can enjoy a range of climates, from hot sun and dry desert to cold winds, rain, and snow. What's more, it's a party place! I had lots of fun there in the US. San Francisco is the best place to go on the weekend. Los Angeles is another beautiful city; it's located in Southern California. In California you can find a variety of populations including lots of Mexicans, Chinese, Indians and other Asians.
If you are Asian, you will not feel lonely because California is full of Asians. So it is easy to get Asian food. If you don't feel like cooking, there are lots of restaurant chains around.
I would say that like the rest of Europe, the Netherlands has the best public transportation system, do not expect this in the US. It is convenient to have a vehicle of your own.
The United States is a very big country with lots of opportunities as well as a great deal of fun to offer.
By: (Aakash) Vishnu Harran Amul | MSc Automotive Technology