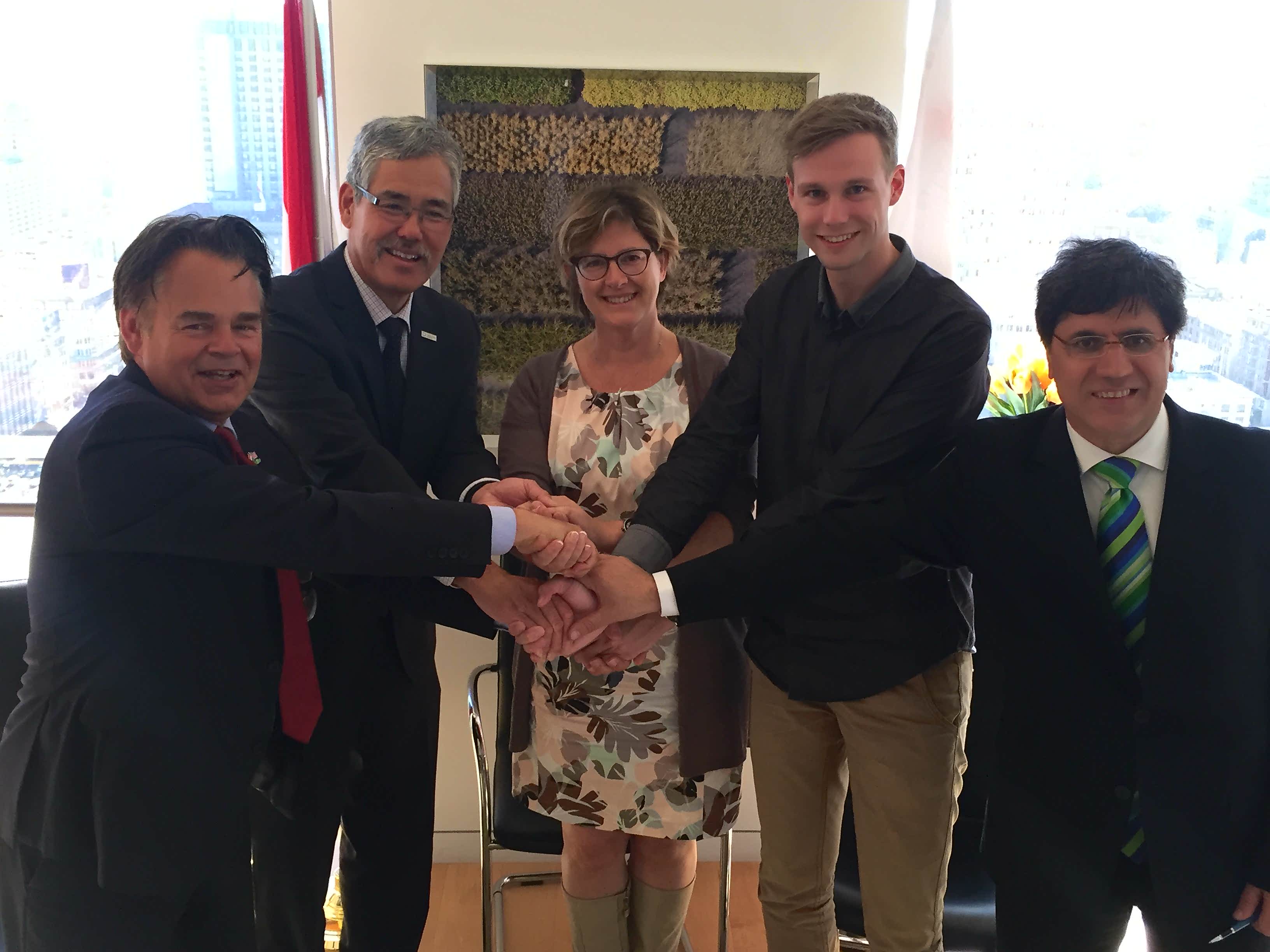 A partnership to accelerate autonomous vehicle development between the Netherlands and California. With Contra Costa Transport Authority (CCTA) and testing site GoMentum, Dutch-Californian Coast to Coast Smart e-Mobility program signed a Letter of Intent to join forces and move forward Smart e-Mobility innovation and business development. Autonomous car-sharing platform Amber will be the first Dutch business using the GoMentum testing site at the former naval stations in Concord, CA. Parties have agreed to a partnership in which they share information, launch Amber in California and look for opportunities for GoMentum to launch in the Netherlands. The signing ceremony, led by Ms. Djoeke Adimi, deputy Consul General, took place at the Consulate General of the Netherlands in San Francisco.
Innovation
"Coast-to-Coast e-Mobility is very excited to join forces with CCTA and GoMentum and to see that Amber which was part of the successful mission with Minister Kamp and His Royal Highness Prince Constantijn in January, will launch the innovative smart e-mobility solution in California and the US at large", says Peter van Deventer, Diplomatic Liaison of the Netherlands. "GoMentum and CCTA are leaders in the world on autonomous transportation testing and are very successful in stimulating Smart e-Mobility innovation. They also strongly focus on research and development. They are a great partner to the transatlantic cooperation between the Netherlands and California and their ambitions to accelerate the introduction of smarter and cleaner transportation."
"Innovation knows no boundaries," CCTA Executive Director Randell Iwasaki said. "As the managing entity for GoMentum Station, CCTA is excited to partner with The Netherlands and its Coast-to-Coast e-Mobility Program for research and testing. GoMentum Station is a secure, 5,000-acre test site—a premiere location to try out driverless technology."
Hans de Penning (Amber): "We see a lot of similarities between the Eindhoven Brainport Region and the Bay Area. Both in the mobility problems we face and the will to innovate. In working together coast to coast we can create safer, greener and more convenient mobility solutions."
Climate Action
This partnership agreement is just one of several actions taken by California State and Dutch Agencies since 2013, in an effort to advance innovation that will help combat climate change. The Netherlands and California have committed to stringent climate change action programs to meet or exceed.