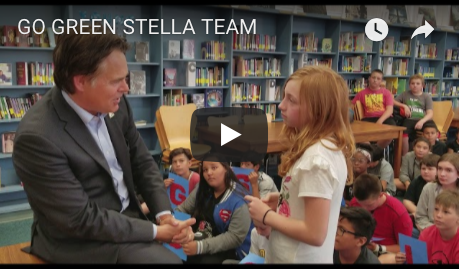 Last week Peter van Deventer visited the Rio Linda Preparatory Acadamy in Rio Linda near Sacramento, California for children 10-13 years old. It was this Middle School where in October 2014 the first Stella Team, led by Lex Hoefsloot (now the CEO of Lightyear!) made a wonderful connection and later on won a Tech Crunch Award with great support from the school.
Ever since 2014, Rio Linda has been involved with the three Stella teams through design competitions, video conferences and pitch presentations at the Consulate General in San Francisco and at the Governor's Office in Sacramento. Their teacher, Ms. Sharon Glover, has been the driving force and inspiration for these young students to choose technology careers and make positive life choices.
The "STELLA goes USA" initiative in 2014 and "STELLA LUX goes USA" initiative in 2016/2017 was made possible by various members of the Coast to Coast Smart e-Mobility Alliance: NXP, TU/e, Ministry of Economic Affairs and Alliander/Allego and many others like IBM, Ericsson, Gefco and Provincie Noord-Brabant.