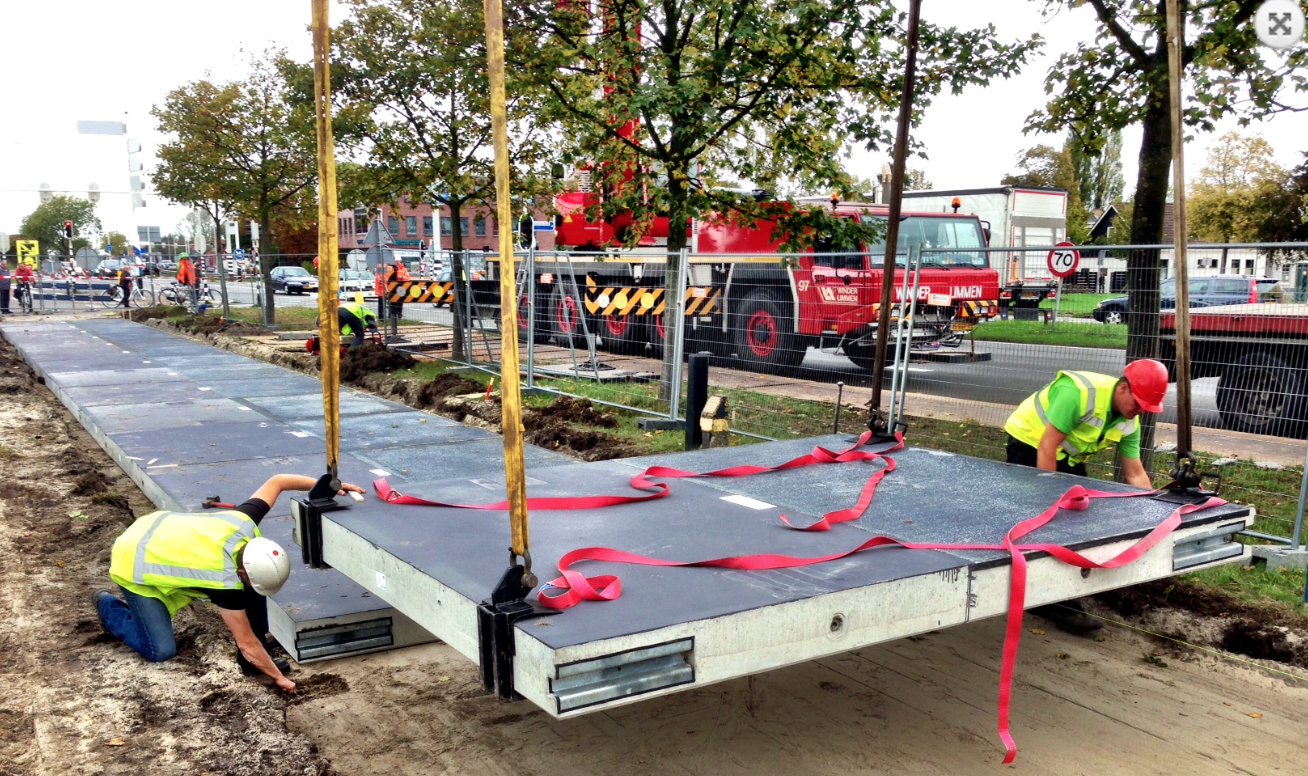 The province of Noord-Holland is going to test the SolaRoad solar-surface for heavy vehicle traffic. After the successful pilot on a cycling lane in Krommenie, the municipality of Haarlemmermeer and the province are looking for a suitable location for heavy vehicle traffic to drive over SolaRoad. The pilot will test the behavior of the road surface for heavy traffic and what the solar-surface means for the daily management and maintenance of the road. In addition, the province will test how the energy-yield can be maximized.
SolaRoad captures sunlight falling on the roadsurface through solar cells and converts this into electricity. The pavement acts as a large solar panel. By making smart use of the existing road network, it is possible to use a larger surface for collecting energy without affecting the landscape. Vice-governor Elisabeth Post: "It is time for a next step. The pilot in Krommenie has taught us a lot. We know that the road surface performs well under the cycling traffic, now we are going to investigate how it behaves when heavy vehicle traffic drive on the SolaRoad. If the pilot is successful, this greatly increases the possibilities for large-scale application of solar roads. "
 Living Lab
The test location for heavy vehicle traffic in the Haarlemmermeer will become a living lab. This means that the test environment is set up on a public road. The test compartment is set up in phases, which also involves working with different materials. The Vice-governor has made € 2.700.000,- available for the pilot, the research and the further development of the product.
 Cooperation and further development
SolaRoad is a development of the province of Noord-Holland, TNO and Strukton Civiel. In 2018, the province of Zuid-Holland will also carry out a trial with SolaRoad for heavy vehicle traffic. The province of Zuid-Holland wants to test the solar road surface on a bus lane, where the traffic situation is different from the road in Noord-Holland. The provinces work closely together and share knowledge and results.
In addition to the concrete pilot in the Haarlemmermeer, the province of Noord-Holland, TNO and Strukton Civiel are currently exploring the chances and opportunities for further commercialization of the SolaRoad initiative in a joint venture.
Smart roads and sustainable energy transition
The energy generated with sunlight can be used for many purposes, such as street lighting, households, traffic installations and electric driving. The innovation is in line with the sustainability objectives that many governments and companies, in the context of the Paris Climate Agreement, endorse. It contributes to CO2 reduction and makes a valuable contribution to the development of smart roads and sustainable energy transition.
More information about SolaRoad: www.solaroad.nl