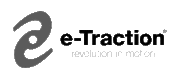 Lowest Total Cost of Ownership
e-Traction aims to apply its distinguished technology in e-vehicles worldwide, with the main focus on manufacturers of heavy duty vehicles such as buses, and their suppliers. Our products and services guarantee our customers safety, security, avoidance of risks, and proven technology. Above all, we offer top quality for the lowest price, by offering the lowest Total Cost of Ownership. We aim for a long-term customer relationship, which includes outstanding service and support. The unique intellectual position of e-Traction as the worldwide assignee of a state-of-the-art patent portfolio on in-wheel electric direct-drive technology and system patents allows us to out-license intellectual property rights to a global network of partners.
e-Traction, for a sustainable world
By creating the most efficient electric powertrain solutions, e-Traction contributes to reducing the environmental impact and energy consumption of mobility worldwide. Electric powertrain vehicles are the future of e-mobility.
The future is now, as e-Traction created superior, distinguished and patented powertrain technology for e-mobility. We are willing to share our expertise on this subject with researchers and universities worldwide, as with governmental and non-governmental organisations. The revolution in motion has begun.