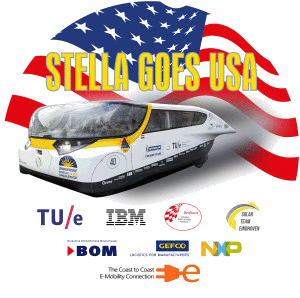 "Stella goes USA" partners announce Stella's US arrival,
the first solar-powered family vehicle, to kick-off National Drive Electric Week
Transatlantic leader in connecting e-Mobility knowledge, innovation and business
welcomes the car of the future to the US
September 12, 2014, San Francisco, Sacramento and Los Angeles, CA. –– Coast to Coast e-Mobility liaison for e-Mobility knowledge, innovation and business between the US and Western Europe, today announced on behalf of the "Stella goes USA" partners, the U.S. arrival of "Stella," the world's first solar-powered, energy positive family vehicle.
Set to make its national debut at ITS World Congress in Detroit, September 7-11, Stella will demonstrate the benefits of EV's, solar technology and vehicle-to-vehicle (V2V) communication. Following ITS World Congress, Stella will travel to Los Angeles for National Drive Electric Week (NDEW), kicking off its tour by driving up the California Coast along Highway 1, set to make key stops in both Sacramento and San Francisco. The annual observance of NDEW is organized nationally by Plug In America, the Sierra Club and the Electric Auto Association.
Designed by students of Solar Team Eindhoven at the Eindhoven University of Technology (TU Eindhoven) in The Netherlands, Stella can drive almost 500 miles on a single charge and is both CO2 neutral and energy positive, producing twice as much energy as it consumes. Stella highlights NXP's V2V technology and next-generation urban mobility solutions to address the current and future mobility needs of mega cities. Solar energy is perfectly suitable for daily use of cars and Stella easily complies with all electric car standards.
Lex Hoefsloot, Team Leader of Solar Team Eindhoven says: "With Stella we want to show the world what the car of the future would look like. We are very happy to bring it to Detroit as well as California and share our knowledge".
Peter van Deventer, Diplomatic Liaison and Director of Coast to Coast e-Mobility says: "The greatest feature of Stella is that it speaks to the imagination of mankind. With the presence of Solar Team Eindhoven in the US we wish to inspire further development of solutions for many of today's global challenges like climate change."
Stella's visit to the U.S. is the result of a major collaboration of US and Dutch partners including Brabant Development Agency (BOM), GEFCO/Delmar International, IBM, NXP, Province of Noord-Brabant, Solar Team Eindhoven, TU Eindhoven and Coast to Coast e-Mobility.
Follow Stella along Highway 1
Arriving in Los Angeles on September 15, Stella will embark on a week-long trip, ending in San Francisco on Monday, September 22 at the Residence of the Consul General of The Netherlands , where NXP will lead an industry roundtable on connected vehicle security.  Full breakdown of Stella's California tour:
Monday, September 15
National Drive Electric Week kick-off at HQ Plugshare, Venice Beach
Tuesday, September 16
Coastal Ride from Paso Robles to Bay Area via Carmel for their Drive Electric Week kick-off. Arrival in San Francisco (Golden Gate Park/Residence of the Consul General of The Netherlands)
Wednesday, September 17
Education and future of automotive discussions between Stanford University and TU Eindhoven  solar car teams
Thursday, September 18
Visit to California State Government and local middle school to engage with the public and drive awareness of alternative transportation options
Friday, September 19
Roundtable discussion on connected vehicle security hosted by Prof. Dan Sperling  at UC Davis including partners Cisco, Econolite, IBM, NXP, UC Davis, Secunet
Saturday, September 20
Visit Cupertino's National Drive Electric Week event  with the Holland e-Mobility House and part of Guinness Book of World Records attempt for most EV's in a parade
Sunday, September 21
Visit Monterey Bay: Santa Cruz/Capitola Mall National Drive Electric Week event with the Holland e-Mobility House
Monday September 22
Media event in San Francisco to discuss connected vehicle security hosted by the Consulate General of The Netherlands  including partners Delphi, Econolite, IBM, NXP, UC Davis, Secunet
Follow Stella on Facebook (https://nl-nl.facebook.com/SolarTeamEindhoven), Twitter (#StellaUSA @SolarEHV), or Flickr for high quality pictures (https://www.flickr.com/photos/solarteameindhoven/)
WHY COAST-TO-COAST E-MOBILITY CONNECTION?
The Netherlands and West Coast of the US face many similar challenges on air quality, oil dependence, job creation, congestion and sustainable urban regions. Transportation is mainly responsible but also offers great opportunities for change and growth. E-Mobility is one of these promising opportunities.
As far as e-Mobility: California and The Netherlands are global leaders. In 2013 Mr. Matt Rodriquez, Secretary of the California Environmental Protection Agency, and Mrs. Wilma Mansveld, Secretary of the Dutch Ministry of Infrastructure and the Environment signed a bilateral agreement on e-Mobility cooperation and stimulation. In addition, the California Plug-In Electric Vehicle Collaborative and Coast to Coast e-Mobility signed a multi-year agreement to cooperate on knowledge transfer and business development.
"The Coast to Coast E-Mobility Connection" (C2C), a public-private partnership, aims to promote knowledge and innovation exchange between Dutch and U.S. governments, universities and companies; to strengthen bilateral relations between decision-makers; and, to help position private organizations in relevant e-Mobility markets.
In April 2013, C2C set up a dedicated Holland E-Mobility House, located within the Netherlands Consulate General in San Francisco, to organize seminars, trade missions, study tours and other programs to support the partnership's aims. C2C communicates news related to developments in e-Mobility in the US and the Netherlands through various channels. Through its role as "liaison" C2C has a unique positions for many stakeholders.
Check online for real time data on Stella's progress: www.coast2coastEV.org