PRESS RELEASE
The Ohio State University Center for Automotive Research
becomes 28th member of U.S./Dutch Coast-to-Coast e-Mobility Initiative
Long Beach — April 2, 2016, The Ohio State University Center for Automotive Research (CAR) is set to become the 28th member of the Coast to Coast e-Mobility Initiative, aimed at developing the United States and Dutch Smart e-Mobility market. The signing ceremony takes place at the Formula E Grand Prix in Long Beach, California on April 2nd, 2016. The ceremony is set to be led by Djoeke Adimi, Consul General of the Netherlands, and will include Giorgio Rizzoni, director of CAR, Peter van Deventer, director of Coast to Coast e-Mobility, and Elisabeth Post, Vice Governor of the Province of Noord-Holland.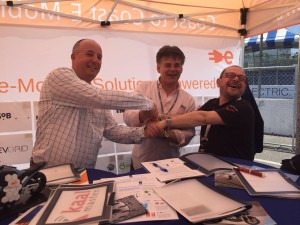 "Coast-to-Coast e-Mobility is very excited that the Center for Automotive Research is joining the initiative," says Peter van Deventer, director of Coast-to-Coast e-Mobility. "I consider the center to be a great asset to the transatlantic cooperation between The Netherlands and the United States and their ambitions to accelerate the introduction of smarter and cleaner transportation."
CAR is a premier automotive research center in the United States, with a strong focus on academic and applied research in the field of zero-emission mobility. Additionally, its broad portfolio on a wide range of other sustainable mobility research and development makes it an ideal member of the initiative.
"The Center for Automotive Research is pleased to join the Coast-to-Coast e-Mobility Initiative," says Rizzoni. "Knowledge and innovation exchange are important elements that are central to the mission of the center as an educational institution, and we look forward to participating in this partnership."
OSU-CAR and Coast to Coast are very much looking forward to further extend their collaboration with each other as well as with the partners of the program. Read More