PRESS RELEASE
The Ohio State University Center for Automotive Research
becomes 28th member of U.S./Dutch Coast-to-Coast e-Mobility Initiative
Long Beach — April 2, 2016, The Ohio State University Center for Automotive Research (CAR) is set to become the 28th member of the Coast to Coast e-Mobility Initiative, aimed at developing the United States and Dutch Smart e-Mobility market. The signing ceremony takes place at the Formula E Grand Prix in Long Beach, California on April 2nd, 2016. The ceremony is set to be led by Djoeke Adimi, Consul General of the Netherlands, and will include Giorgio Rizzoni, director of CAR, Peter van Deventer, director of Coast to Coast e-Mobility, and Elisabeth Post, Vice Governor of the Province of Noord-Holland.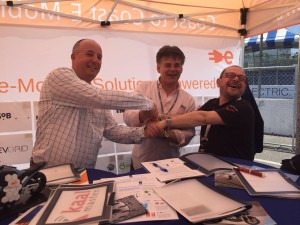 "Coast-to-Coast e-Mobility is very excited that the Center for Automotive Research is joining the initiative," says Peter van Deventer, director of Coast-to-Coast e-Mobility. "I consider the center to be a great asset to the transatlantic cooperation between The Netherlands and the United States and their ambitions to accelerate the introduction of smarter and cleaner transportation."
CAR is a premier automotive research center in the United States, with a strong focus on academic and applied research in the field of zero-emission mobility. Additionally, its broad portfolio on a wide range of other sustainable mobility research and development makes it an ideal member of the initiative.
"The Center for Automotive Research is pleased to join the Coast-to-Coast e-Mobility Initiative," says Rizzoni. "Knowledge and innovation exchange are important elements that are central to the mission of the center as an educational institution, and we look forward to participating in this partnership."
OSU-CAR and Coast to Coast are very much looking forward to further extend their collaboration with each other as well as with the partners of the program.
ABOUT THE COAST-TO-COAST E-MOBILITY PROGRAM
The Netherlands and California are global leaders for e-Mobility introduction. In 2013 Matt Rodriquez, Secretary of the California Environmental Protection Agency, and Wilma Mansveld, Minister of Infrastructure and the Environment signed a bilateral agreement on e-Mobility. In addition, the California Plug-In Electric Vehicle Collaborative and Coast to Coast e-Mobility signed a multi-year agreement to cooperate on knowledge transfer and business development. "The Coast to Coast E-Mobility Connection" (C2C), a public-private partnership, aims to promote knowledge and innovation exchange between Dutch and U.S. governments, universities and companies; to strengthen bilateral relations between decision-makers; and, to help position private organizations in relevant e-mobility markets. In April 2013, C2C set up a dedicated Holland E-Mobility House, located within the Netherlands Consulate General in San Francisco, to organize seminars, trade missions, study tours and other programs to support the partnership's aims. C2C communicates news related to developments in e-mobility in the US and Netherlands through various channels. Since its launch the Holland Mobility House has made great strides, achieving many tangible results for all partners involved, including signing of various strategic agreements between California and the Netherlands; the Governor's Conference on e-Mobility defining three specific multi-million dollar projects for NL/CA cooperation; several commissioned research projects supported by EU/NL and US/CA funding; California and The Netherlands trading policy advisors for three months; several successful (trade) missions for NL and CA (private) organizations such as APPM, MRA, e-Traction, NsoB, NXP, PNH, PROOV, Spijkstaal, Tacstone, TU/e, WUR, BOM; hosting the CEC Commissioner in the Netherlands as well the Secretary EPA and CA business delegation to experience state of the art smart e-mobility developments in The Netherlands; investments by leading Dutch smart e-Mobility private organizations in California (e.g. APPM, e-Traction, NXP, PROOV, Spijkstaal); investments and market development by CA organizations in NL (e.g. EV4LLC, EVGrid, Greenlots, Tesla, Zero Motorcycles); together with LAEDC and UCLA, winner of a 3 million dollar CEC grant to set up an Mobility Center in Southern California covering more than 20 million people; bringing Stella to the US (watch video), which resulted into winning the prestigious 2015 Tech Crunch Award beating Apple Pay, Space X and Rosetta Comet Lander (watch video). In 2015, EPA Secretary Rodriquez visited the Netherlands together with stakeholders from California who saw firsthand state-of-the-art e-Mobility developments in a variety of sectors of the economy. In 2016, Prime Minister Mark Rutte and Governor Brown spoke about the importance of trans-Atlantic cooperation on Smart and e-Mobility.
ABOUT THE OHIO STATE UNIVERSITY CENTER FOR AUTOMOTIVE RESEARCH
The Center for Automotive Research (CAR) is an interdisciplinary research center in The Ohio State University's College of Engineering. CAR research focuses on: energy, safety and the environment, aimed at improving sustainable mobility. CAR offers state-of-the-art facilities for students, faculty, research staff and industry partners. With a concentration on preparing the next generation of automotive leaders, CAR is recognized for: interdisciplinary emphasis on systems engineering, advanced and unique experimental facilities, collaboration on advanced product development projects with industry and a balance of government and privately sponsored research. More: car.osu.edu.
CONTACT INFORMATION
Coast to Coast e-Mobility
Dr. Peter van Deventer MPA, Diplomatic Liaison and Director
E: petervandeventer@gmail.com
W: www.coast2coastEV.org
M: +1-831-295-9120 / +31-6-1860-9420
Center for Automotive Research
Holly Henley, Communications and Marketing Coordinator
E: henley.53@osu.edu
W: car.osu.edu
M: +1-614-292-4217