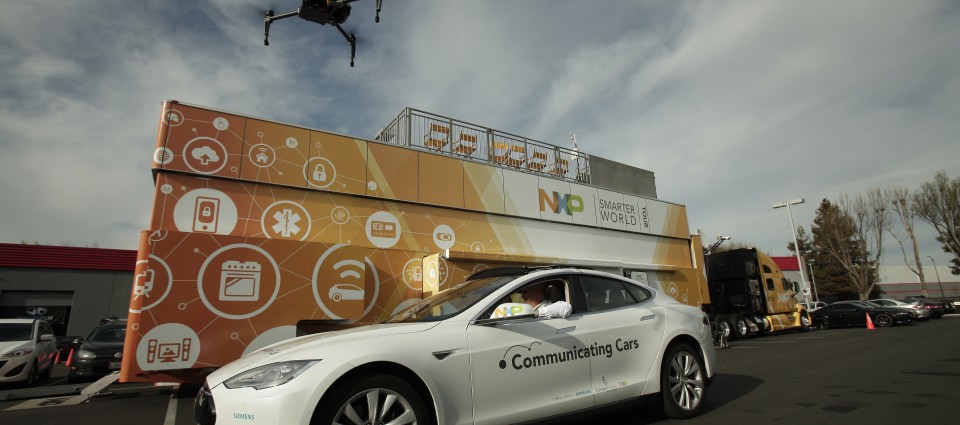 New car manufacturers are emerging, and many start-ups are bringing bold ideas into the global automotive industry with the same objective in mind: enable the secure, connected self-driving car. Every major car manufacturer has an office in Silicon Valley now – Forbes magazine recently discussed how Silicon Valley will reinvent the car industry. And it was evident earlier this month when NXP invited 300 automotive influencers to "NXP connects Silicon Valley event," with a day-long agenda focused on self-driving cars, security and hacking, secure connectivity and mobility. Held at the Club Auto Sport, it was the perfect setting for great discussions – chic modern innovation mixed with just a scent of hot brakes and burning rubber.

Live demo: Secure vehicle-to-X and drone-to-X communicates in traffic
The next step towards smart mobility is the implementation of securely connected drones. At the NXP Connects Silicon Valley event, NXP showed live demonstrations of drones communicating with each other and with vehicles, based on the IEEE802.11p standard that the auto industry is using for vehicle-to-vehicle communications. Also referred to as unmanned aerial vehicles, drones can be used for survey, agriculture and delivery systems. Whatever they do, though, they need to be safe and secure – and it's important the owner can be identifiable at all times, whether in the air or on the ground.
Just like with cars, secure authentication is a key topic for this growing industry and NXP can address this with its leading portfolio of security solutions.
NXP is the world largest chip supplier to the automotive industry, and leading technology provider for advanced driver assistance systems (ADAS) and cybersecurity. In addition to a variety of automotive technology demos at Club Auto Sport, NXP's Smarter World Tour truck was parked outside with more than 130 Internet of Things demos, illustrating how NXP technology securely connects and powers the smart home, smart cities — and even drones.
In addition to a variety of automotive demos at Club Auto Sport, NXP's Smarter World Tour truck showcased more than 130 IoT demos, illustrating how NXP technology securely connects and powers the smart home, smart cities — and even drones.
NXP and partners, Siemens, Cohda Wireless, and Neology also offered a live demonstration of the power of V2X technology. Demos included green light optimization, vulnerable road user alerts and speed bump warnings. The outside demonstrations featured a police car equipped with an RFID license plate for long-range, remote vehicle identification.
Industry experts: Can we trust new mobility systems?
A panel kick-started the dialogue about the future of connected transportation, security challenges and addressed how people interact with technology for smart mobility. Panel participants included experts from Continental, Harman, NXP, Rinspeed, Siemens, and Toyota. Junko Yoshida, Chief International Correspondent, EE Times, moderated the panel.
The shiny, beautiful VIP guest: 2016 Rinspeed Concept car, Etos
It was clearly the star of CES – Harman's launch images of the new Rinspeed concept car 2016, Etos, at Hardrock Cafe were instant hits around the world. Etos gave the extra spectacular shine to NXP's show in Silicon Valley, too – a self-driving vehicle complete with its own drone landing pad. Based on an electric BMW i8, it features a retractable steering wheel to allow drivers to make use of the entire interior for an autonomous driving experience yet take back command of the wheel when needed.
BLOG-Rinspeed
Self-driving Rinspeed Etos concept car makes a stop at NXP Connects Silicon Valley, demonstrating future possibilities for autonomous vehicles.
Highlighted demos: Latest radar IC demonstration
NXP Connects Silicon Valley was the chance to experience some of NXP's latest automotive technologies, including the world's smallest single-chip 77GHz radar transceiver with stunning resolution performance. The radar chip, announced at CES 2016 (video), enables a new generation of radar sensor assemblies, roughly the size of a postage stamp, that can be integrated virtually "invisible" practically anywhere in the car — a core technology in existing and future ADAS applications. In addition to demos, a dozen workshops covered automotive topics ranging from cybersecurity, secure V2X, MCUs, radar, discrete automotive semiconductors, in-vehicle networking, car infotainment, sensors, and long-range RFID.
No more traffic jams, no more accidents: Smart city demo with NXP, [ui!] – the urban institute®, and Microsoft
Smart cities are a hot topic, especially in the U.S., where the government recently kicked off the Smart Cities challenge.
NXP, [ui!] – the urban institute, and Microsoft demonstrated how sensor data from smart city, traffic infrastructure, and vehicles can be integrated to measure the pulse of a city and manage the traffic. The joint project pulls together live data from various sources to simulate a smart traffic center for the city of Las Vegas, illustrating how electronics can solve today's traffic challenges in an efficient way without additional steel and concrete.
The simulation runs on the urban institute's [ui!] COCKPIT user interface. NXP pushes additional data, collected by smart test cars, to the [ui!] "UrbanPulse" cloud that continuously updates the user interface. The test cars have vehicle-to-x (V2X) capability, allowing cars to wirelessly communicate with each other with intelligent infrastructure of more than one mile to significantly improve road safety. Vehicle-to-X (V2X) technology can save thousands of lives globally. The U.S. is currently working on a mandate for new cars to be fitted with this safety technology.
Microsoft provides the powerful cloud infrastructure for near real time data processing, data storage and big data analytics for the city data. The company offers smart cities the ability to tap into the solution portfolios of Microsoft and its partners and innovate at their own pace, deploying real-time solutions that can interoperate with and improve upon existing IT, accelerating intelligent traffic management, economic development, and environmental sustainability in cities.