PRESS RELEASE
TomTom becomes 27th member of
US/Dutch Coast to Coast e-Mobility Initiative
San Francisco — On March 30th, 2016, TomTom becomes the 27th member of the Coast to Coast e-Mobility Initiative to cooperate and develop the US and Dutch Smart e-Mobility market. The signing ceremony takes place at the Consulate General of the Netherlands in San Francisco. The ceremony is led by Ms. Djoeke Adimi, Consul General, who signs on behalf of the Dutch Government. Mr. Ralf-Peter Schäfer signs on behalf of TomTom and Dr. Peter van Deventer on behalf of Coast to Coast e-Mobility. Ms. Elisabeth Post, Vice Governor of the Province of Noord-Holland will attend the ceremony as well.
"Coast-to-Coast e-Mobility is very excited that TomTom joins the partnership", says Peter van Deventer, Director, "TomTom has become one of the most prominent data solution providers for Smart Mobility and eMobility challenges. They also strongly focus on research and development. I consider TomTom a great asset to the transatlantic cooperation between The Netherlands and California and their ambitions to accelerate the introduction of smarter and cleaner transportation."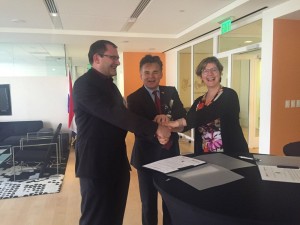 "We are very happy to be joining the Coast-to-Coast e-Mobility initiative", says Ralf-Peter Schäfer, Head of Traffic at TomTom. "California is a leading region for e-Mobility and being part of the initiative will enable TomTom to partner with business and government in developing future approaches to smart mobility. As a leading provider of maps, traffic, and navigation, TomTom is ideally placed to address the future needs for cities and OEMs. With our extensive experience, we can help in reducing congestion and pollution as well as helping electric vehicles to perform better by avoiding traffic and reliably predicting their range."
ABOUT THE COAST-TO-COAST E-MOBILITY PROGRAM
The Netherlands and California are global leaders for e-Mobility introduction. In 2013 Matt Rodriquez, Secretary of the California Environmental Protection Agency, and Wilma Mansveld, Minister of Infrastructure and the Environment signed a bilateral agreement on e-Mobility. In addition, the California Plug-In Electric Vehicle Collaborative and Coast to Coast e-Mobility signed a multi-year agreement to cooperate on knowledge transfer and business development.
"The Coast to Coast E-Mobility Connection" (C2C), a public-private partnership, aims to promote knowledge and innovation exchange between Dutch and U.S. governments, universities and companies; to strengthen bilateral relations between decision-makers; and, to help position private organizations in relevant e-mobility markets.
In April 2013, C2C set up a dedicated Holland E-Mobility House, located within the Netherlands Consulate General in San Francisco, to organize seminars, trade missions, study tours and other programs to support the partnership's aims. C2C communicates news related to developments in e-mobility in the US and Netherlands through various channels.
Since its launch the Holland Mobility House has made great strides, achieving many tangible results for all partners involved, including signing of various strategic agreements between California and the Netherlands; the Governor's Conference on e-Mobility defining three specific multi-million dollar projects for NL/CA cooperation; several commissioned research projects supported by EU/NL and US/CA funding; California and The Netherlands trading policy advisors for three months; several successful (trade) missions for NL and CA (private) organizations such as APPM, MRA, e-Traction, NsoB, NXP, PNH, PROOV, Spijkstaal, Tacstone, TU/e, WUR, BOM; hosting the CEC Commissioner in the Netherlands as well the Secretary EPA and CA business delegation to experience state of the art smart e-mobility developments in The Netherlands; investments by leading Dutch smart e-Mobility private organizations in California (e.g. APPM, e-Traction, NXP, PROOV, Spijkstaal); investments and market development by CA organizations in NL (e.g. EV4LLC, EVGrid, Greenlots, Tesla, Zero Motorcycles); together with LAEDC and UCLA, winner of a 3 million dollar CEC grant to set up an Mobility Center in Southern California covering more than 20 million people; bringing Stella to the US (watch video), which resulted into winning the prestigious 2015 Tech Crunch Award beating Apple Pay, Space X and Rosetta Comet Lander (watch video). In 2015, EPA Secretary Rodriquez visited the Netherlands together with stakeholders from California who saw firsthand state-of-theart e-Mobility developments in a variety of sectors of the economy. In 2016, Prime Minister Mark Rutte and Governor Brown spoke about the importance of trans-Atlantic cooperation on Smart and e-Mobility.
ABOUT TOMTOM
At TomTom (TOM2) our mission is to make technology so easy to use, that everyone can benefit from it.
We created easy to use navigation devices, helping millions of people to get where they want to be. Today, we continue to simplify the complex, making technology more accessible for everyone.
We have four customer facing business units: Consumer, Telematics, Automotive and Licensing.
We make easy to use navigation devices, sport watches and action cameras for consumers. We enable businesses with vehicles to more easily manage and improve fleet efficiency whilst increasing overall business performance with our Telematics solutions. We also offer a world leading realtime map platform that is powering innovative location based services and helping to make automated driving a reality for the automotive industry.
Founded in 1991 and headquartered in Amsterdam, we have over 4,600 employees and sell our products worldwide.
CONTACT INFORMATION
Coast to Coast e-Mobility
Dr. Peter van Deventer MPA, Diplomatic Liaison and Director
E: petervandeventer@gmail.com
W: www.coast2coastEV.org
M: +1-831-295-9120 / +31-6-1860-9420
TomTom
Sebastian Mathews, Director Group Communications
E: tomtom.pr@tomtom.com
W: www.tomtom.com
M: +31 (0)20 75 74 135